Estonian technology company DriveX has partnered with German electric vehicle selling platform Cardino. DriveX's AI-powered vehicle inspection is implemented into Cardino's consumer-to-business vehicle sourcing platform. Used EV sellers can easily capture their car's condition in a way that buyers can trust right away. Ultimately, DriveX helps Cardino to speed up the car listing and sales process, making it possible to sell an EV in just 24 hours.
"We were impressed with how Cardino identified a big and growing opportunity in the used car market and quickly seized their opportunity with EVs. We're glad to be working with them to speed up the EV adoption process in large markets like Germany and make it more bulletproof. In fact, there's great potential for the whole car sales industry here, not only EVs. For DriveX, starting our first project in Germany is definitely a milestone and we can't wait to see the results," commented Rauno Sigur, CEO of DriveX.
DriveX has developed an AI-powered image capturing solution or in other words a vehicle inspection software, that is used by some of the biggest insurers in the EU. Among others, their client portfolio includes Vienna Insurance Group, ERGO and PZU Group. DriveX's solution itself is very straightforward. When a customer takes pictures of a car, each picture is checked separately in real time. When something is off with the images (blurriness, wrong angle, too far, dirtiness of the car, etc.), instant feedback is given to the customer and also instructions for a better picture. Error messages are quite detailed, so the customer knows exactly what to do and utmost quality is guaranteed. With the AI-powered inspection, both the seller and the buyer can feel safe thus the sale happens faster.
A partnership to streamline the sale and acquisition of EVs
Previously, customers took photos and sent them to Cardino for the listing. However, this approach led to issues with poor quality images or missing necessary views, causing delays as the platform had to request new sets of pictures. With DriveX, this problem is effectively solved. Cardino can provide the customer with a DriveX web link, guiding them through a self-service inspection using just their smartphone.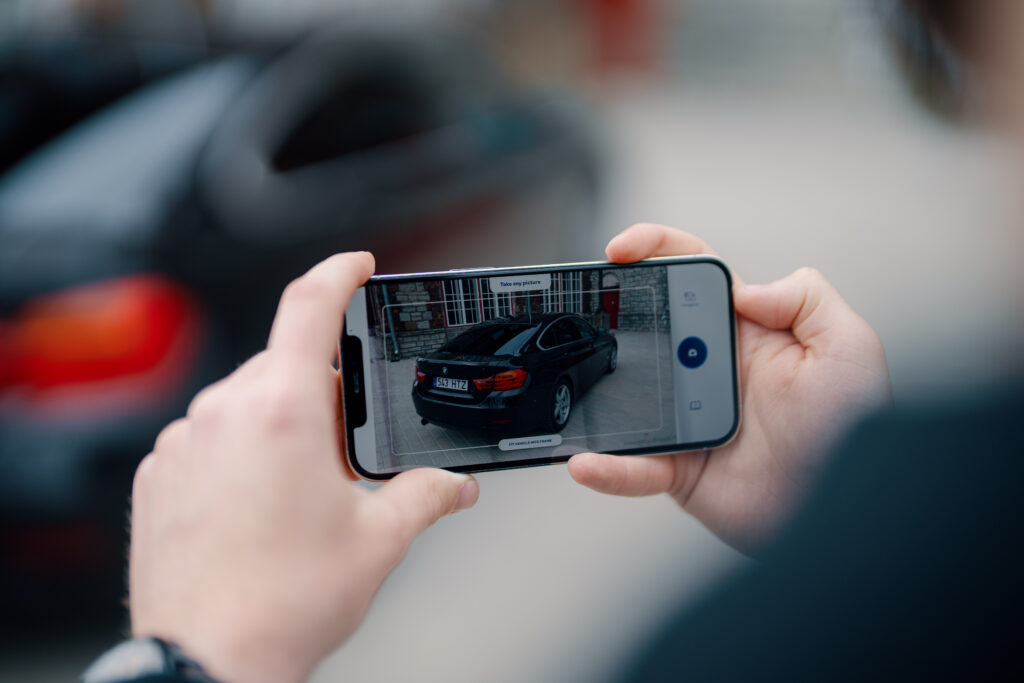 As a result, Cardino can now receive superior-quality photos in the very first attempt, expediting the sales process and helping customers secure the highest possible price for their used cars. The improved image quality also attracts higher interest from its buyers, further enhancing the selling experience. With DriveX, the company can ensure that their car dealers can make confident decisions and that their customers receive top-notch service when selling their vehicles on Cardino.
"For car dealers participating in our auctions, having access to precise, well-lit, and comprehensive pictures is essential to confidently purchase a vehicle. This adds significant value to their buying process. At Cardino, we understand this crucial need, which is now expertly addressed through using DriveX when a customer uploads an EV on our platform," explained Lukasz Pajak, co-founder of Cardino.
About DriveX
Founded in late 2019, DriveX's remote AI-powered vehicle inspection software is used by large international insurers such as ERGO, Vienna Insurance Group, PZU Group, and others. The technology has been showcased in Tech.eu, Sifted (Financial Times), Microsoft, Nikkei, and more. To date, the company has raised 1.3M$ from DEPO Ventures, Plug and Play Ventures from Silicon Valley, accelerator Startup Wise Guys, and dozens of powerangels from Wise, Bolt, Cleveron, Skeleton, Katana, MeetFrank and others. The company is now planning to expand in mobility, car sales, and consumer-related verticals.
About Cardino
Cardino started in 2022 with a vision to build a better market for electric vehicles, harnessing the power of technology to deliver a new, amazing EV selling experience. Their goal is to ensure that used EVs find a new owner and remain on our roads for as long as possible.